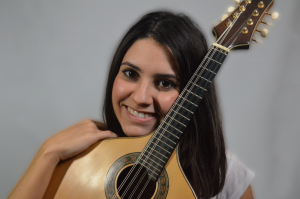 The youngest sister of Choro das 3 started studying music at 8 years old, diving straight into learning choro. She studied the bandolim at the Tatui Conservatory under professor Altino Tolodo, later taking up clarinet in the classical area of the Conservatory. She also plays plectrum banjo, piano and accordion.
Here's how she described her learning process in a 2017 interview with Dan Beimborn at mandolincafe.com. Keep in mind she's talking about a process that started when she was around 7 years old:
One Sunday, we went to São Paulo, to see a choro concert. There were several choro players in the audience, and after the concert they invited us for a jam session at a pub. That was the first jam session of many for me. I only knew one tune. But I was hooked.
The old players were very nice to me and my sisters, as if we were their granddaughters. During the jam session, when we are all sitting in the circle playing, there was no age. They were very demanding, which was good, because I learned from a very young age that the important thing is to play your best.
After three years, I quit the conservatory, and realized the jam sessions were the way if I wanted to learn choro. So for like 10 years, my parents would take us on Saturday to São Paulo, and we would play at different jam sessions, from 10:00 a.m. until 3:00 a.m. the next morning!
[…] My two main mentors were Milton More and Danilo Brito. Milton who has a more playful modern style. He was very picky and gave me lots of advice and tips. Danilo Brito plays in a more traditional way, with a beautiful tone and clarity, and perfect technique. I would meet them every week, listen to them, and play for hours.
While rapidly progressing as an instrumentalist, Elisa was also developing as a composer from a very young age. At 9 years old she wrote Redondinho, Valsinha de Mimi and Bolinha de Gude, which is recorded on Choro das Três 2008 CD, " Meu Brasil Brasileiro." She has continued composing since, including pieces for solo piano released on CD as, Summer Days.
In addition to recording and touring with Choro das Três, Elisa has been invited to teach and present at various events, including The Mandolin Symposium (Mike Marshall and David Grisman – California), Mandolines de Lunel (France) and Mandolin and Guitar Accademia (Italy).
One last snippet from the above-mentioned interview will tell you something important about Elisa's approach to learning and teaching:
I believe teaching is an important part of a musician's life. I think it's very important to keep passing to others what someone once shared with you. I also find I really learn a lot when I teach.
My interest on teaching started when I realized my learning process on mandolin was unique, and I really want to explore that with my students. I believe a good teacher is the one who motivates and inspires his or her students. I can't let my students forget the joy and fun of playing. Once a person has fun playing, it all will come eventually!