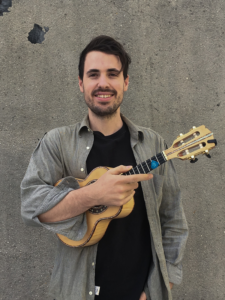 Kahil started playing guitar at a young age and grew up playing in bands in his native Australia. A fascination with Brazilian music led him to live in Rio de Janeiro and study cavaquinho under the guidance of Jayme Vignoli back in 2009. This trip later led to performances with Yamandu Costa and Mauricio Carrillo and to many return trips to Brazil.
Over the past seven years Kahil has been living in New York City, collaborating with different artists and writing his own music. He and the other members of Regional de NY host a bi-weekly roda de choro in Brooklyn. He can also be found playing cavaquinho with 'Samba NY!' and for Brazilian artists passing through the Big Apple. He has conducted classes in Brazilian music both in the US and abroad and—heads up, locals—tutors cavaquinho and guitar on an individual basis.
Kahil's primary role at Choro Camp will be to work with relative newcomers to choro on cavaquinho. Worried that you are perhaps not advanced enough to attend? Worry not. This is where you want to be, and Kahil is who you want to be working with.