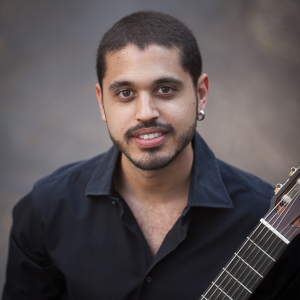 Guitarist Henrique Neto has been an instructor at the Escola Brasileira de Choro Raphael Rabello in Brasilia since 2006 and has served as its Deputy Director since 2012. He'll play two very similar roles for Choro Camp New England – teaching guitar and serving as our musical coordinator.
Henrique has been a member of the Choro Livre group for 10 years, which, besides being the most traditional choro group in Brasilia, accompanies guest artists at Clube do Choro in Brasília. In that capacity and others he has worked with some of the biggest names in Brazilian música popular: Dominguinhos, Sivuca, Hamilton de Holanda, Paulinho da Viola, Danilo Caymmi, Sebastião Tapajós, and Hermeto Pascoal. He has performed in more than fifteen countries in four continents and won the Geração Musical national award granted by Furnas in 2009 together with the group, Trio Cai Dentro.
Henrique is the co-author, with Dudu Maia, of the Choro Handbook. The first of the videos below is a short intro (in Portuguese with English subtitles) to that work, to which all participants at Choro Camp New England will have access.
Video
Choro Handbook Intro
With Márcio Marinho – Suíte Retratos
With Victor Angeleas – Gian Correa: Velhos Tempos (Jacob do Bandolim)