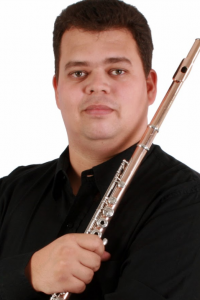 Sérgio Morais has studied broadly, but perhaps most significantly with the man he considers "Brazil's greatest flute soloist," Altamiro Carrilho. Apparently the master respected his student a great deal as well – he passed along his principal flute, a 1950 Haynes, to Morais in 2012.
Sérgio has played in the Filarmônica de Brasília, the Sinfônica do Teatro Nacional Claudio Santoro and Sinfônica da UFMT. He has shared the stage with many of the greats of Brazilian música popular including Altamiro Carrilho, Hamilton de Holanda, Paulo Sérgio Santos, Beth Carvalho, Elton Medeiros, and Luciana Rabello.
Like all the members of Choro Livre joining us this year, Sérgio's resumé includes years of teaching experience at the Escola de Choro Raphael Rabello in Brasília, where he has taught flute since 2001. He has coordinated choro workshops, offered lectures and given master classes for the Associação Brasileira de Flautistas on numerous occasions. On the international front he has been invited to teach and perform at a number of conferences and festivals, including the International Flute Festival of Acofla (Costa Rican Association of Flautists), the Leo Brower Festival in Maringá, PR, and the International Convention of the National Flute Association.
Video
Escapulindo (Paulinho da Viola)
Serenading his mentor, the great Altamiro Carrilho