About Choro Camp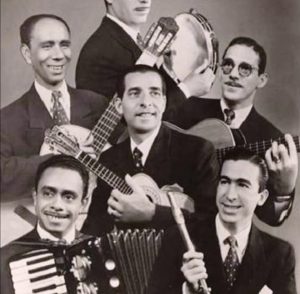 If you have fallen in love with the Brazilian musical tradition called "choro" (or "chorinho"), we know this much: you have good taste.
We know too that as a musician setting out to play this music you've got a lot of fun – and, let's be honest – a piece of work ahead of you. Even in Brazil, learning to play choro presents daunting musical challenges. The repertoire is vast and complex; the masters are, well, masterful. Taking on the challenge in North America we face additional obstacles: few experts nearby, few people to play with, barriers of language and culture, etc.
Choro Camp New England is here to help you navigate these obstacles and get to the fun part – playing choro together – as quickly as possible. Whether you are a relative newcomer to the genre looking to get off on the right foot or an experienced chorão ready to dive deeper, we offer a place to gather, to learn and to play to your heart's content.
With classes, rodas, housing and food all on the campus of Smith College in Northampton, Massachusetts, we invite you to leave your car and cares behind. At week's end we'll enjoy a concert by the artists on our staff at Northampton's exquisite Academy of Music Theater.
Then we all head for home. If we've done our job, you'll leave exhausted and inspired. But most importantly, you'll be better equipped to take a leading role in a roda de choro in your area.—so you can be having as much fun year round as you're going to have here.