Housing and Food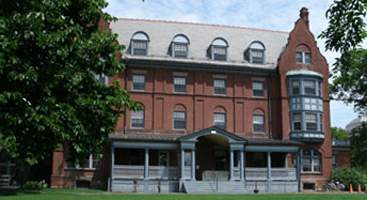 The dorms at Smith College are not just where we'll sleep at Choro Camp New England. They are our home base, where virtually all the classes, jamming and hanging out will happen. Although off-campus housing is an option, we suggest you stay in the dorms with us if you want the full Choro Camp experience.
Our standard housing option will be for a private room, though typically bathrooms are shared. There are some rooms large enough to serve as doubles, but please note that we are charged by Smith College by the person, not the room, so there's no cost savings for a shared room. Also note that "double" rooms do not have double beds, but two singles.
We offer an on-campus meal plan for Choro Campers. That too is optional, but again, we recommend it. Sharing meals keeps us both well-fed and well-connected during our time here. The folks at Smith are happy to accommodate a variety of special dietary needs, and they've seen it all. If you do opt out of the meal plan, downtown Northampton is only a 10-minute walk away and offers many fine options at various costs.
For suggestions of where to eat, drink, and other spots that may be useful during your stay in Northampton, check out this Google Map.