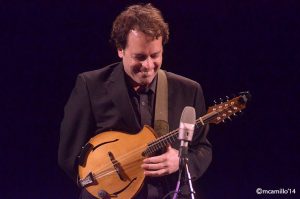 The simple version of Tim's profile goes like this: When we asked Elisa Meyer of Choro das Três which US-based mandolinist she would like us to invite to teach with her at Choro Camp, she said, "Tim Connell".
Done.
The longer version of Tim's music bio and credits would take some time. As a graduate of the New England Conservatory of Music and performer with, by now, over twenty-five years professional  experience under his mandolin strap, his diverse projects, passions and accomplishments are perhaps too many to detail. To make things manageable here we'll simply note a few that are specifically choro-related.
Tim has performed alongside many terrific Brazilian musicians, among them Dudu Maia, Choro das Três, Alessandro Penezzi, Eduardo Neves, Almir Cortes and Cesar Garabini. He has been equally involved with many of the American artists who, like himself, have been nurturing the seeds of choro in this country for years—folks like clarinetist Harvey Wainapel and the Berkeley Choro Ensemble. His own choro duo with guitarist Mike Burdette, Rio Con Brio, has 3 CD's and dozens of performances to its credit.
As a veteran teacher and workshop presenter, Tim has taught at the Alaska Folk Arts Camp, the Wintergrass Festival School, the Mandolin Symposium and, as it happens, the other event we ourselves produce, Django in June.  He is currently an Adjunct Professor of Music at Lewis and Clark College in Portland and contributed extensively to the "choro" section of the number-one selling mandolin instructional book, "Mandolin for Dummies." He's ready to contribute extensively to the understanding and enjoyment of choro for non-dummies, like you, too.
Video
Vibrações (Jacob do Bandolim) with Cesar Garabini
"Brejeiro", with Jack Dwyer on Twin Mandolins